A TRIBUTE
THE MISENO COLLECTION PAYS HOMAGE TO THE ANCIENT ITALIAN TOWN OF THE SAME NAME
The finished creations beautifully capture the influence of the Mediterranean landscape's natural elements.
AN HOMAGE TO MISENO, ITALY
ABOUT THE BRAND
Miseno is a collection of timelessly elegant, yet fashion-forward, fine jewelry. Brand founder, Antonio Cardamuro, whose journey includes time spent at major Italian jewerly houses, such as Bulgari and Buccellati, sought to fulfill his passion for jewelry while paying tribute to his heritage and upbringing in Miseno, Italy.
With such a rich history and landscape to draw from, the resulting collection of handcrafted jewelry, complete with diamond and gemstone embellishments, is a thoroughly modern and fresh interpretation of classic Italian jewelry design.
ARCO FELICE
THE LOGO
The city itself was historically an important port town entered through a fabled Roman arch, "Arco Felice". The Romans believed that upon entering through this arch, one would find love and happiness. We feel the same about our jewelry and hope it fills all who wear it with love and joy.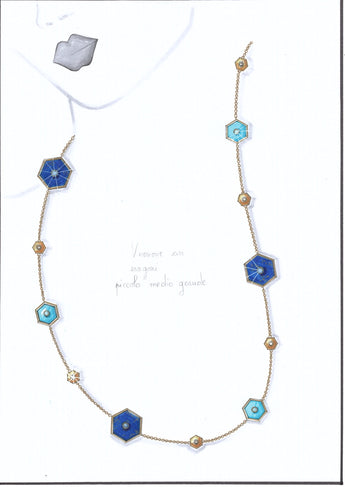 MADE IN ITALY
THE CRAFTSMANSHIP
Each piece is first envisioned by Antonio before a team of skilled artisans transform his visions into reality. These mastercraftsmen work meticulously in the brand's workshop, employing age-old techniques of goldsmithing and stonesetting that have been passed down over generations.